And there it is! 🙂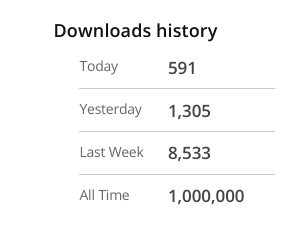 Just a few weeks after celebrating its third anniversary, TablePress reached the milestone of 1,000,000 downloads from the official WordPress Plugin Directory. (Its predecessor, the outdated WP-Table Reloaded, is now at 690,000 downloads, so, technically, we are talking about an even higher number of downloads! 🙂 )
I'd like to take this opportunity to say "Thanks!" to all users of the plugin — over 300,000, according to the stats in the WordPress Plugin Directory. It's great to see that a plugin that was started as a personal solution for a stats table on a baseball website is now so helpful and valuable to so many people, their sites, and even their businesses!
At the same time, maintaining the plugin is a high responsibility — one that I will always try to fulfill as best as I can. Even though it's sometimes stressful and annoying to answer the same support questions over and over again, it always makes me feel good to help someone, and to maybe even get a "Thank you!" or positive rating in return. A special shout-out goes out to all users who have shown their appreciation with a donation for a cup of coffee (or even dinner) or a book from my wish list. Without all of you, I would not be able to invest big chunks of my free time into support and development for TablePress. Thank you!
Here's to the next million!