New feature in TablePress 2.2!
This feature module is part of the TablePress Premium plans.
Even though styling tables with "Custom CSS" code is a proven way to adjust the design of TablePress tables, it's not for everyone. For example, picking colors requires knowledge of HTML color codes and there's no native preview.
This has changed! The TablePress premium versions now offer a "Default Style Customizer"! This cool feature allows choosing from multiple style variations as well as defining a custom color scheme in an easy-to-use visual tool! You can now change your tables' default style without touching CSS code!
Feature description
The "Default Style Customizer" can be found on the "Plugin Options" screen of sites that have a TablePress Pro or Max premium license.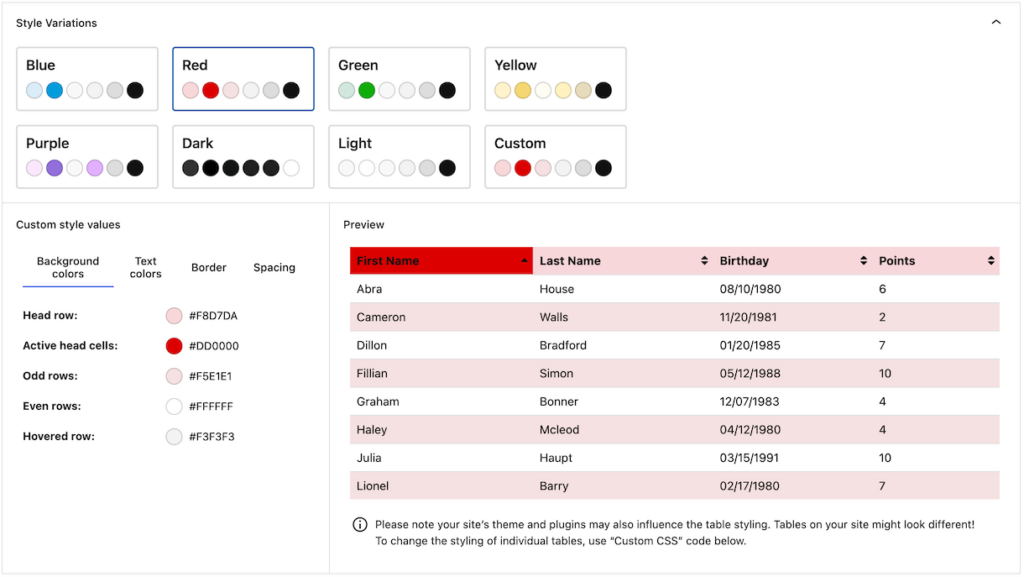 In addition to the default blue color scheme, it offers red, green, yellow, purple, dark, and light style variations. These can also be customized, by choosing the desired colors in easy-to-use color pickers. This, for example, allows setting row background and text colors, as well as highlight and hover colors. In addition, it's possible to adjust the padding (the white space between the text and the inner edges) of the table cells.
This adds a new and easy method to quickly adjust the styling and design of your tables to match the theme colors, for example. You can of course still adjust the styling and design of individual tables using "Custom CSS" code! For the future, it is planned to extend the customizer's features to also allow changing individual table styles, in addition to the default styles.
Usage instructions
To use the "Default Style Customizer" with your tables, enable the feature module on the TablePress "Modules" screen, which you will see after upgrading your site to a TablePress premium license.
You will then see the customizer interface from the screenshot above on the "Plugin Options" screen of TablePress. After making your desired changes there, just click the "Save to 'Custom CSS'" button. Your styling will then be applied to all TablePress tables on your site, as the default styling.
Please note: Existing "Custom CSS" or CSS from other plugins or your theme can heavily influence this feature! As part of the direct priority email support that premium licenses holders are entitled to, I'll of course be happy to solve these problems! Just get in touch via the premium support!